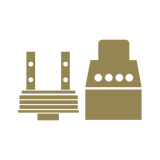 Rebuildables
Similar to a tank, rebuildables tanks contain wires and coils, however, you can make the coil yourself by wrapping the wire and adding cotton. This is more appealing to Vapers that what to go to a more advanced level of vaping as the user will require knowledge about rebuilding and coil safety. Available in many forms; RDA (Rebuildable Dripping Atomiser), RSA (Rebuildable Squonk Atomiser), RDTA (Rebuildable Dripping Tank Atomiser), RTA (Rebuildable Tank Atomiser).
Wismec Bambino RDA
Wismec
£29.99
---
The Bambino is a rebuildable dripping atomizer (RDA) designed by...
Hellvape Rebirth RDA
Hellvape
£19.99
---
The Rebirth RDA is the result of collaboration with Mike Vapes,...
Coil Art Mage RTA Tank
Coil Art
£27.99
---
The MAGE RTA's extra wide 510 sloped delrin drip tip...
Aspire Cleito RTA Deck
Aspire
£2.99
---
This easy-to-build Cleito RTA has a dual coil velocity-style deck....
Bombertech Firefly RDA
Bombertech
£49.99
---
Top cap is made of ULTEM, a high quality space...
Bombertech Pindad Driptank
Bombertech
£49.99
---
Bombertech realised their amazing new Pindad Driptank! Designed with a...