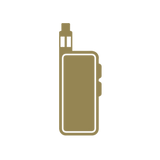 Sale Kits
Get your e-cigarette for an affordable price. Browse our selection of discounted vape kits from brands such as Aspire, Innokin, Eleaf, SMOK, Vaporesso, UWELL and more.
Geekvape Aegis X ZEUS kit
GeekVape
£49.99 Was £69.99
---
Now featuring the Geekvape Aegis ZEUS sub ohm tank, the...
Geekvape T200 Aegis Touch Kit
GeekVape
£49.99 Was £79.99
---
The Geekvape T200 Aegis Touch kit includes the Geekvape T200...
Innokin Klypse Pod Kit
Innokin
£8.49 Was £16.99
---
Ultra-light with an effortless performance. The new Innokin Klypse pod...
RELX Essential Device
RELX
£6.95 Was £9.99
---
Ready for the smoothest vaping experience, ever? RELX Essential kit...
SMOK Nord 2 Pod Kit
SMOK
£29.99
---
The SMOK Nord 2 kit is the upgraded version of...
SMOK RPM5 Pro Pod Kit
SMOK
£24.99 Was £39.99
---
The new SMOK RPM 5 Pro Pod Kit integrates vaping,...