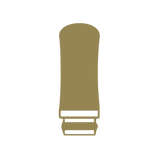 Drip Tips
The part of the atomiser that will be your mouthpiece. Drip Tips come in different shapes and sizes; many vapers like to customise their atomiser with special drip tips. These can improve flavour, vapour and comfort. Standard size is 510 but the 810 is becoming more popular with cloud chasers.
Vandy Vape 810 resin drip tip
Vandy Vape
£2.99
---
810 connection resin drip tip by Vandy Vape. Contains: 1...