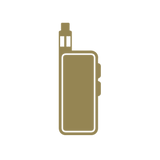 Box Mods
A mechanical or variable wattage device in the shape of a box that sends power to the atomiser, enabling the user to vape.
Some mods require an external battery (sold separately) HERE.

Aspire Rhea Mod
Aspire
£54.99
---
The highly anticipated first shock-proof mod from Aspire, the Aspire Rhea mod...
Eleaf iStick T80 Mod
Eleaf
£36.99
---
The Eleaf iStick T80 mod has a great look and...